Journal of Production Research & Management (JoPRM) ) is a print and e-journal focused towards the rapid publication of fundamental research papers on all areas of Production Research and Management. This journal attempts to be a key research journal in the areas of operations management in manufacturing and services. It's a triannual journal, started in 2011.
eISSN: 2249-4766
ISSN: 2347-9930
SJIF: 4.175
Indexed in: DRJI, Citefactor, Journal TOC, Google Scholar
Focus and Scope Covers
Production and Operations Management
Planned Manufacturing, optimization and simulation
Production systems
Supply Chain Management
Manufacturing Strategy
Policy formulation and evaluation in production research
Productivity Improvement
Manufacturing Automation and e-Business
Organizational behavior
Energy Efficient Manufacturing
Business Law and Technology Management
Operational and Marketing Management
Economics and Business Management
Human Resource Management
Business Strategy and Policy          
All contributions to the journal are rigorously refereed and are selected on the basis of quality and originality of the work. The journal publishes the most significant new research papers or any other original contribution in the form of reviews and reports on new concepts in all areas pertaining to its scope and research being done in the world, thus ensuring its scientific priority and significance.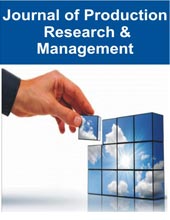 Publisher: STM Journals, an imprint of CELNET (Consortium e-Learning Network Pvt. Ltd.)
Address: A-118, 1st Floor, Sector-63, Noida, Uttar Pradesh-201301, India
Phone no.: 0120-478-1200/ Email: info@stmjournals.com
Announcements
No announcements have been published.
Vol 10, No 1 (2020)

Open Access

Subscription or Fee Access
Table of Contents
Articles
| | | |
| --- | --- | --- |
| | Sukhadip Chougule, Sohan Patil, Prathmesh Lotekar, Durgesh Limbhore, Rohit Vhatkar | 1-11 |
| | | |
| --- | --- | --- |
| | S. V. Ashtekar, V. H. Bendale, S. R. Londhe | 12-17 |
| | | |
| --- | --- | --- |
| | J. Siddhartha Yadav, B. Gangadhar | 18-24 |
| | | |
| --- | --- | --- |
| | Ajay Kumar Agarwal, Rakesh Kumar | 25-31 |
| | | |
| --- | --- | --- |
| | Davinder Pal Singh, Rajesh Kaushal | 32-39 |