Recent Trends in Electronics & Communication Systems (RTECS): is a print and e-journal focused towards the rapid publication of fundamental research papers on all areas of Electronics, Communication and systems.
Focus and Scope Covers
Transmission systems
Relay Stations, Tributary stations.
Data Terminal Equipment
Power Line Communication Systems
A Duplex Communication System
A Tactical Communications System
Electronic Sensors and Sensory Systems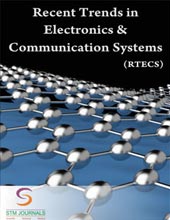 Announcements
No announcements have been published.
Vol 5, No 3 (2018)